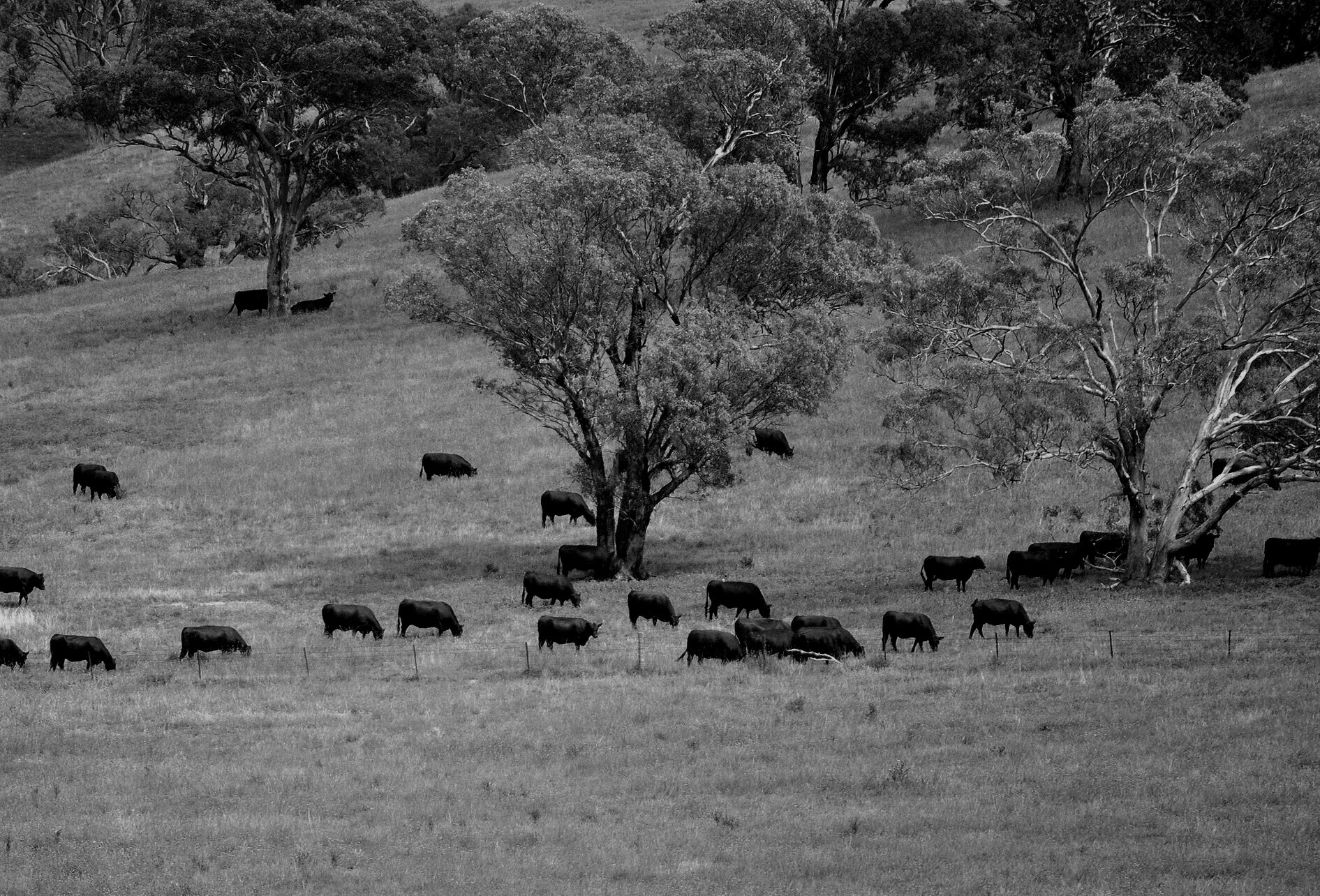 About US
Coffin Creek is an Angus seedstock operation located East of Mudgee on the Central Tablelands of NSW, Australia.
Our mission at Coffin Creek is to breed cattle that embody the fundamental characteristics which make Angus such a versatile and profitable beef enterprise. 2019 marks our 28th year of breeding. Over the years, we have always aimed to improve our own herd of cows and as such, also provide a source of genetics that will benefit downstream users.
We emphasise maternal phenotype and function in our operation. Physically, our females have adequate dimensions of depth, length & width translating into cattle with volume. Structural soundness and a quiet disposition are imperative. Functionally, our cows need to be able to forage in large contemporary groups, in varying terrain. From two years of age, they must calve unassisted, fall pregnant in the joining period and wean a calf each and every year. We have zero tolerance for calving difficulty and cull accordingly. Our heifer matings are designed to achieve a breeding outcome rather than for calving ease. By placing this pressure on our heifers, we ingrain calving ease into the cow herd.
We assess each animal in our herd multiple times a year. This involves having each animal stand individually in the round yard whilst being scrutinised for foot and leg structure, udder set, temperament and overall type. As well as old fashioned cattle sense, we utilise available technologies to enhance our breeding outcomes. We diligently record data for Breedplan and use Genomic DNA testing to boost the accuracy of the predicted performance on the cattle. Artifical Insemination & Embryo Transfer are tools used to gain access to elite genetics.
Sires are thoroughly researched prior to use. They are selected on phenotype, pedigree as well as performance data. We make a concerted effort to inspect the sires we introduce to our programme. Each year, we use many of our own yearling bulls for in-herd natural joining. We endorse the economic benefits provided by young bulls for such advantages as longevity, ease of handling and rapid access to genetics. As such, yearling bulls make up the majority of the offering at our Annual bull sale each year.
It is our ambition that the bulls we offer at our Annual Sale go out into the industry to inject softness, muscle and doing ease into commercial cattle herds, as well as breed females whose qualities mirror those of our own herd.
The Coffin Creek currently herd consists of approximately 300 registered, performance recorded Angus females. These cattle run alongside commercial cattle and sheep which fluctuate in number depending on the season. Our animals are run in a rotational grazing system that hinges on a philosophy of maintaining ground cover at all times. We adapt our stocking rate to suit the conditions. The ecological approach engages sympathetic land use strategies that seek to improve water and soil quality at all times.
History
Coffin Creek Angus was founded by Nigel White in 1989 with the purhcase of foundation females from Naranghi, Narrangullen, Noonee and Millah Murrah studs. Despite having grown up at Havilah North, one of the oldest Devon Studs in Australia (founded in 1883), Nigel had a preference for Angus cattle. As such, he went about developing his own small herd of Registered Angus females on the northern-most part of Havilah North; a block called Coffin Creek.
In 2000, Denis and Valerie White retired, and the Havilah North Devon herd was dispersed. A portion of Havilah North was then taken over by Nigel and his two sons Jack and Harry, and would become the home of Coffin Creek Angus.
In 2012, after supplying Angus bulls to the local region for many years, Coffin Creek held it's first on-property bull sale. This event is now held annually in August in the same Havilah North sale ring that hosted many bull sales from the 1970s to 1990s.
In 2014, Harry & Jack returned from the completion of various work experience and tertiary education opportunities to join the family business and help with the development of the stud.
In 2019, as part of family succession Harry & Jack assumed formal management of Coffin Creek Angus. In doing so, they continue a long family tradition, being the 6th straight generation of Whites to breed cattle on country that is part of the original Havilah Station.
Past Success
Coffin Creek Angus has a successful history of entering cattle in Shows and Carcase competitions. It is not always easy for pure-bred cattle to compete against cross-bred animals but our steers have done well in a range of different categories and competitions. Some notable results are listed below.
1991 Reserve Champion All Breeds Middle Weight Class Sydney Royal Easter Show
1995 Champion Light Weight Carcase Beef Improvement Association, Mudgee
1996 2 Steers in Middle Weight Top 5, Hoof and Hook Sydney Royal Easter Show
1996 Supreme Champion All Breeds Bull Dunedoo Show, NSW
1996 Junior Champion Bull Bathurst Royal Show, NSW
1998 Champion Pen of Three Steers Dubbo National Show, NSW
2006 Reserve Champion Middleweight Carcase, Open Steer Section Sydney Royal Easter Show
2007 First Prize Breeders Group of Three Carcases, Open Steer Section Sydney Royal Easter Show
2008 Best Individual Steer Carcase Australian National Field Day, Orange, NSW
2010 Champion Team of Steers Heavy Weight Class Australian National Field Day, Orange, NSW
2010 Runner Up Best Live Steer Australian National Field Day, Orange, NSW
2011 Champion Pen of Three Steers, Hoof and Hook Beef Spectacular, Dubbo, NSW
2012 Noel Williams Shield for Best Angus Steer Carcase Sydney Royal Easter Show, shown by Mudgee High School
2013 Reserve Champion Individual Live Steer Australian National Field Day, Orange, NSW
2013 1st Place Live-weight Gain on Grain Australian National Field Day Orange, NSW
2015 Second Overall, RNA Paddock to Palate 70 Day Trade Steer Division, presented at the EKKA, Brisbane, QLD
2015 Champion Carcase, RNA Paddock to Palate 70 Day Trade Steer Division, presented at the EKKA, Brisbane, QLD
2015 Champion Pen of 6 Carcases, RNA Paddock to Palate 70 Day Trade Steer Division, the EKKA, Brisbane, QLD
2018 First Place, MSA Eating Quality RNA Paddock to Palate, 70 Day Trade Steer Division, EKKA, Brisbane, QLD
2018 Seventh Place Weight Gain, Paddock to Palate, 70 Day Trade Steer Division, EKKA, Brisbane, QLD
2018 Eighth Place Overall & Highest Placed pure bred Angus Team, RNA Paddock to Palate, EKKA, Brisbane, QLD